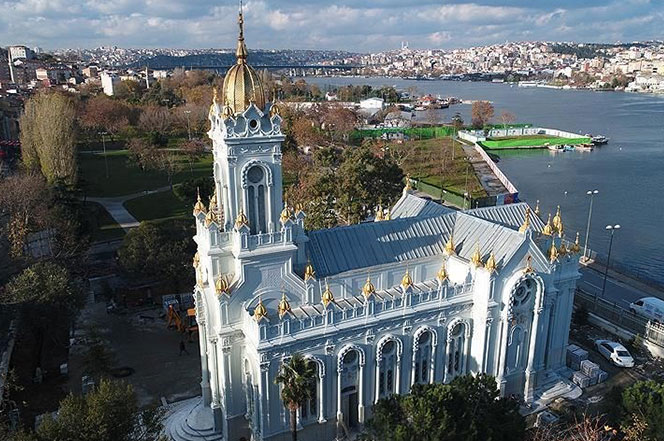 Istanbul is a beautiful city drenched in history and considered a capital of culture and art. Alongside the magnificent mosques, there is a breath is a beautiful city drenched in history and considered a capital of culture and art. Alongside taking array of churches that should be added to our tours .With Christianity in Istanbul dating back to the fourth century, the Christian population of Turkey is estimated at more than 160,000. These include Roman Catholics of varying ethnicities, ethnic Assyrians, Greek Orthodox and a small number of Bulgarians, Georgians and Protestants of various background. Here is a list of some of the most-visited and widely-known churches in Istanbul that are worth a visit.
St. Anthony of Padua Catholic Church is located on the famous İstiklal Avenue in Beyoğlualternatively known as Sant'Antonio di Padova Church, is an Italian Neo-Gothic-style church built between 1906 and 1912. Being the largest and most important of the Roman Catholic churches in Istanbul, this church has the largest community attending its masses. With its red brick exterior and phenomenal interior design, St. Anthony of Padua is sure to take your breath away. 

St. Eirene, otherwise known as Hagia Irene, meaning Holy Peace in English and Aya Irini in Turkish, is a former Eastern Orthodox Church located in the courtyard of Topkapı Palace. This fascinating church was the first church built in Constantinople. The Roman Emperor Constantine I commissioned the first Hagia Irene Church in the fourth century.

The Church of St. George is the main Greek Orthodox cathedral still in use in Istanbul today. Dating back to 1836, this church is part of the Greek Patriarchate, a compound of buildings nestled behind the historic sea walls fronting the Golden Horn. Inside are artifacts, including Byzantine mosaics, religious relics and a wood and inlay patriarchal throne. 

The Bulgarian St. Stephen Church, also known as the Bulgarian Iron Church because of its famous cast iron exterior, belongs to the Bulgarian minority in Istanbul. Completed in 1898, the richly ornamented church is a three-domed cross-shaped basilica. The altar faces the Golden Horn, and six bells that were cast in Yaroslavl, rise above the narthex.